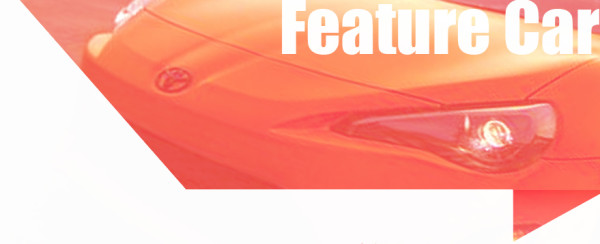 86modified.com's Feature car # 3 is Joe's Subaru BRZ. Almost nothing has been left untouched with a massive modification list and has seen some time on the track at both Subiefest at Roval course California Speedway and 86cup at Buttonwillow.
Below Joe has recorded a sound clip of how his Subaru BRZ sounds with the aftermarket exhaust system and the supercharger install.
The engine bay is simple and clean.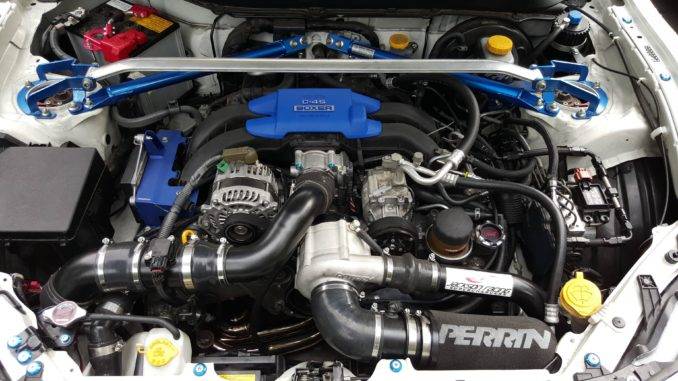 Joe has also given his BRZ lots of STI love with various accessories like this shift knob.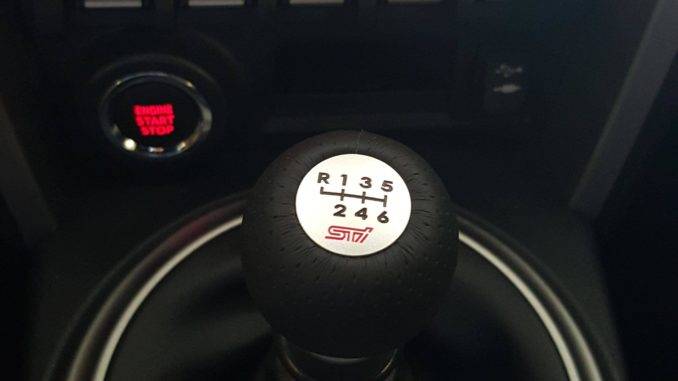 SETUPS
Setup 1: KW C38, Grams 550, 4bar, Delicious FlexFuel tune
Setup 2: NA, stock injector, Moto-East FlexFuel tune
Setup 3: JR C30, DW 700, 3bar, Moto-East FlexFuel tune
Setup 4: JR C30, HBP, DW 700, 3bar, Church FlexFuel tune
Setup 5: JR C30, HBP, DW 700, 3bar, Delicious FlexFuel tune, Built Motor
MOTOR
Jackson Racing C30 Supercharger Kit
Jackson Racing High Boost Pulley
Jackson Racing Oil Cooler
Perrin Crank Pulley
Perrin Accessory Pulleys
Perrin Radiator Hoses
CP Pistons 12.5:1
King bearings
Carrillo Rods
ARP head studs
GSC Beehive spring kit
Reimax Oil Pump Gear
OmniPower 3bar MAP sensor
Fumoto Quick Drain Oil Valve
Velox Cam Plate
ENGINE DRESS-UP
STI Oil Cap
STI Oil Filter
STI Radiator Cap
STI Battery Tiedown
Perrin Brake Cozy
Perrin Foam Filter
Nameless DI Ecu Cover
Subaru Blue Engine Cover
APR Carbon Radiator Cooling Plate
ZSPEC Scion FRS / Subaru BRZ Fastener Dress-Up
FUEL
Deatschwerks DW300 fuel pump
Deatschwerks 700cc injectors
Moto-East FlexFuel Kit
EXHAUST
Perrin 2.5″ Resonated Catback Exhaust
Perrin Overpipe
Perrin Front pipe (catted)
Gruppe-S UEL header
DRIVETRAIN
STI Transmission Mount
STI Short Shifter
STI MT Shift Knob
TRD Quick Shift Kit (Instructions)
SouthBend Stage 3 Daily Clutch
Velox Billet Clutch Fork
Velox Billet Pivot Ball
MTEC Clutch Spring
MTEC Stainless Steel Clutch Line
MTEC Shifter Springs
DSS Aluminum Driveshaft
Motul Gear 300 (trans and diff fluid)
SUSPENSION
STI Steering Rack Hardware (longer bolts, nuts, subframe fills/spacers)
STI Steering Rack Bushings
STI Rear Subframe Bolts
TRD Door Stabilizers
Cusco Front Lower Arm
Cusco Lower Control Arms
Cusco Sway Bar Front
Cusco Sway Bar Rear
Cusco Strut Tower Bar Front
Cusco Strut Tower Bar Rear
Cusco Power Brace Engine
Cusco Power Brace Front
Cusco Power Brace Rear Side
Cusco Rear Crossmember Brace
Cusco Rear Differential Brace
Perrin Rear Shifter Bushing
Perrin Steering Rack Lockdowns
Perrin Rear Endlinks with Spherical Bearings
Buddy Club Racing Spec Coilovers
BRAKES
Stoptech stainless steel lines
Stoptech pads
Motul RBF 600 (brake fluid)
INTERIOR
STI Steering Wheel
STI Steering Wheel Cover
STI Vent Grills
STI Center Panel Ornaments
STI Door Grips
STI Red Door Armrests
STI Shift Lever Cover
STI Engine Push Start Button
2015 Subaru Series Blue Dash panel
2015 Subaru Starlink Stereo System
2015 Subaru center console kneepads
2015 Subaru speaker grille and kneepads
Toyota EDM Center Armrest
Wheelhaus Fiberglass High Mount 3rd Brake Light
Diode Dynamics 5k LED door lights
Diode Dynamics 5k LED dome light
EXTERIOR
STI Front Lip (Instructions)
STI Skirt Lip
STI Sideskirts (Instructions)
STI Rear Aprons (Instructions)
STI Dayliner Extensions
STI Fender Garnish
STI Ornament Front
STI Ornament Rear
STI Gurney Flap
STI Valve Stem Caps
STI Series Blue Wheels
TRD Aero Stabilizer Rising Cover Instructions
Tom's USDM tail lights
Valenti 3rd brake light red/chrome
Diode Dynamics Always-On Module
Diode Dynamics 5k LED side marker bulbs
Diode Dynamics 6k CREE LED fog lights
Grimmspeed Tow Hook License Plate
BeatSonic v2 Shark Fin Antenna
Bayson R rear diffuser (STI rep)
Window Tint
INSTALL QUEUE:
Perrin Positive Steering Response System (Offset)
Whiteline Roll Center and Bump Steer Kit
Whiteline Positive Traction Kit
Cusco Power Brace Rear End
M.O.R. Quick Bumper Disconnect
PARTS TO PURCHASE:
STI Rear Subframe Bushings
TRD Lightweight Flywheel
TRD LSD
TRD Fender Extensions
Cusco Rear Pillar Power Brace
Cusco Exhaust Bushings
Cusco Rear Differential Cover
Cusco Rear Differential Carrier Strengthened Collar
Cusco Rear Trailing Arm
Cusco Shift Lever Retainer Bushings
Cusco Grounding Kit
Cusco Front Lower Arm Plus
Rexpeed Carbon Hood Damper Kit
Rexpeed Heated Wide Mirrors
Velox Non-aggressive Rear Diffuser
Velox Fog Light Brake Kit
Ace 4-2-1 Type A Header 350 OP
AP Racing Sprint BBK
Radium PCV Line Oil Catch Can w/ Petcock Kit
Seibon TS Hood
Whiteline Rear Sway Bar Mount Support
Chargespeed Mirrors
Revolution Subframe Centering Bolts
18×9.5 +38 Weds SA10R Blue Chrome or 18×9.5 +35 Enkei NT03+M SBC
POSSIBLE ALTERNATES
JRZ RS Pro Double Adjustable Clubsport Dampers/Coilovers
Cusco Alternator Pulley Cover (needs modification)
Cusco Accessory Pulley Cover (needs modification)
Cusco Steering Rack Stays (vs Perrin PSRS)
Cusco Steering Rack Bushings (vs STI or TIC solid)
Cusco Transmission Mount Collar (vs STI transmission mount or Whiteline Positive Traction Kit)
SPOON Rigid Collars (vs STI Rear Upper Spacer or Torque Solutions Rear Subframe Bushings or Whiteline )
LegSport Super-Lock Rear Subframe Support Kit (vs Whiteline Positive Traction Kit)